She wanted a family, he didn't. What happened next, neither saw coming.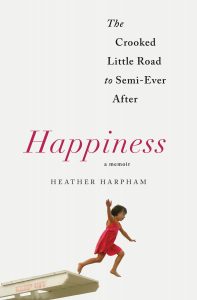 In this week's conversation, Heather Harpham takes us into her whirlwind romance with a writer that led to a seemingly endless series of unexpected turns. Heather always saw her life with children, but her then-boyfriend saw no room for a child. His life was devoted to his craft as a writer. Fate, however, brought them a daughter.
The idea of bringing a child into the world, alone, cultivated emotions ranging from joy to trauma, and eventually cut deep personal divides between the two. Harpham's life was turned upside-down. But, when their daughter was born with a near-fatal illness, the small semblance that was left of Harpham's handle on normalcy was tossed out the window.
In today's conversation, Heather shares her whirlwind romance turned harrowing story of life-and-death motherhood and evolving quest to redefine what family is and can be. This journey is also detailed in her memoir, Happiness: The Crooked Little Road to Semi-Ever After.
+———————+
We're grateful for the kind support of: 
ShipStation: Manage and ship your orders. FREE for 30 days, plus a bonus. Visit ShipStation.com, click on the microphone at the top of the homepage and type in GOODLIFE.
Omax Health: Go to TryOmax.com/GOODLIFE today to get a box of Omax3 Ultra-Pure, FOR FREE!
Camp Good Life Project – $200 Super Early Bird Discount! Join us for 3 ½ mind-bending days in August that will change everything. The ultimate blend of deep-learning, epic stories, friends-for-life, juicy adventures and ideas, strategies and tools for accelerated personal and business growth! It only happens once a year, and more than half the spots are already taken (we sold out month's early last year and had to turn-away many amazing folks). Learn more now and grab your spot!
Photo credit: David Kumin