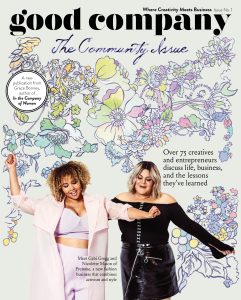 Growing up, Grace Bonney was all about culture and music, with a strong connection with jam bands that landed her on the business side of music and media in New York City. Along the way, she launched a side project blog called Design*Sponge to share insights about her growing passion for accessible home design.
The blog exploded and, eventually, she left her full-time job to build Design Sponge into a full-blown media company of her own with a massive global audience, a book, travel and an increasingly public profile. But, along the way, Grace's interests evolved, creating a gap between what she was creating, what she genuinely cared about and how she wanted to live.
That all came to a head about 5 years ago when pretty much every part of her life, her marriage, her health and work-life were profoundly disrupted, setting in motion an awakening to a new direction in all three domains. Grace was diagnosed with type 1 diabetes, her marriage ended, she came out, fell in love with her now wife, Julia, wrote a new book called In the Company of Women not about design, but about powerful creative women in business, launched a print magazine called Good Company, moved out of New York City, her home of 15 years, to live in a country hamlet with 400 people and rediscover true community, purpose and presence.
We dive into this transformational journey in today's powerful, revealing and inspiring conversation.
Check out our offerings & partners: 
Camp Good Life Project – BIG ANNOUNCEMENT – This is the final year of Camp GLP. It will be a celebration like no other. Join us and some 400 amazing people from around the world for 3 ½ days of connection, discovery, rejuvenation and reinvention. Learn more and grab your spot today!
Ritual: The reinvented multivitamin that works smarter to fill the gaps in your diet. Go to ritual.com/GOODLIFE.
Article: Get $50 off your first order of $100 or more. Just go to article.com/goodlife.
Hunt a Killer: go to huntakiller.com for 10% off your first box when you use the code GOODLIFE.
Honest Tea:

Give your whole family something refreshingly Honest to enjoy. Visit

HonestTea.com/podcast
Photo Credit Lisa Fehl