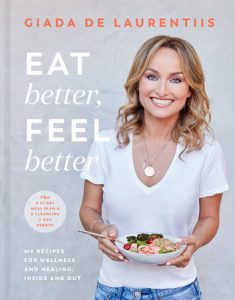 With culinary training from Le Cordon Bleu in Paris, and a relatability that seems to light up the screen, many people know Giada De Laurentiis as the Emmy award-winning television personality of shows like Food Network's Everyday Italian, Giada at Home, Giada's Weekend Getaways, as a judge on Food Network Star and Winner Cake All, an NBC Today Show contributor, and a successful restaurateur with restaurants GIADA and Pronto by Giada in Las Vegas, as well as GDL Italian in Baltimore. Or, maybe you know her as the author of nine New York Times bestselling cookbooks, including her most recent, Eat Better Feel Better, which deftly navigates the sweet spot between delicious recipes and a more healthful approach to cooking and eating. 
But, what you may not know, and what Giada shares in the pages of this new book and our deep-dive conversation, is how her upbringing in a dynastic family of film, both in Italy and Hollywood, shaped everything from her love of food and cooking for others, to her early disdain for being in front of the camera. Her decision to step into the world of cooking on television, in fact, caused quite a dustup in the family. And the career that, in front of the camera, seemed so beautiful and glamorous, would eventually take a serious toll on her physical and mental health. There was a slowly-building dark side that would take years to acknowledge, then eventually step out of and do the work to reimagine both her mental and physical health, as well as the way she brought herself to her work, life and devotion to food and creativity.
You can find Giada at: Website | Instagram
My new book is available!