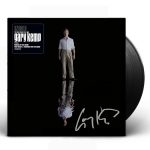 If I said the words, "I know this much is true," a certain generation of humans would immediately start humming along with the lyric and the unforgettable melody from the iconic Spandau Ballet song, simply titled True. As the songwriter and guitarist for '80s music phenom, Gary Kemp wrote True, along with 23 hit singles, and the band's androgynous, glam look changed the culture of music in a way that wouldn't be truly understood for year. He later worked with everyone from Nelly to Lloyd and the Black Eyed Peas, wrote music that's appeared on TV shows worldwide, including Spin City, the Simpsons and Ugly Betty a well as Hollywood blockbusters like the Wedding Singer, Charlie's Angels, 50 First Dates, and Sky High.
When Spandau's opening run came to close in the early 90s, Gary then followed a parallel muse into acting, appearing in the hit British gangster movie, the Krays, and then in Hollywood movies like the Bodyguard, and Quentin Tarantino's, Killing Zoe. He also made his theatrical debut in the London West End production of Art. 
Gary began touring again with Saucerful of Secrets, alongside Pink Floyd drummer, Nick Mason, and bassist, Guy Pratt, rekindling a desire to be back in the studio writing and recording an album he produced during the pandemic called INSOLO, which is a deeply reflective look at his life, love and work.
You can find Gary at: Website | Instagram
If you LOVED this episode:
You'll also love the conversation we had with music icon, Ben Folds, about music, creativity and the power of nonconformity.
Check out our offerings & partners: 
photo credit: Joe Magowan