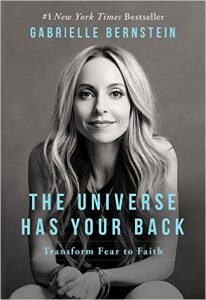 Gabrielle Bernstein is the #1 New York Times best-selling author of The Universe Has Your Back and numerous other books.
She's been featured on Oprah's Super Soul Sunday as "next-generation thought leader" and leads talks, retreats and meditations for sold-out audiences around the world, embracing her role one of the voices of an emerging generation of spiritual teachers.
Gabby is also a certified Kundalini yoga and meditation teacher.She is trained in the Emotional Freedom Technique, is a student of the metaphysical text A Course in Miracles, and practices Transcendental Meditation as taught by the David Lynch Foundation.
In today's conversation, we take a step back into Gabby's personal story, exploring her relationship to faith and how feelings of isolation as a kid led to her become an organizer and leader at a young age. We dive into her year's long struggle with addiction and then work, and her more recent awakening to the role of childhood sexual trauma in her life's journey and the choices she's made.
We dive into her approach to transparency as a spiritual teacher, how she dances between public and private, how opening to the fear in others can serve as a bridge to understanding and so much more.