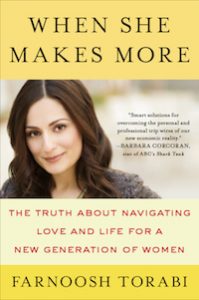 Farnoosh Torabi has been fascinated by how people relate to money, including herself, for as long as she can remember.
Her first book, You're So Money, was a nationally acclaimed tell-all for people searching for financial independence. That led to regular appearances on the Today Show and Good Morning America, writing for magazines like Glamour, Marie Claire and O Magazine, features on the reality series Bank of Mom and Dad, TLC's REAL SIMPLE. REAL LIFE and a personal finance series, Financially Fit on Yahoo! Torabi's award-winning podcast, So Money, made its debut in January 2015. 
Along the way, she got married, became a mom and also found herself the primary breadwinner in her family. That made her curious about what happens when women in relationships earn more than men. This question became not only a very personal one, as it affected her relationship with her husband and friends, but it also became the focus of her last book, When She Makes More.
In today's conversation, we explore all of this, along with her early interests and pursuits, the impact of growing up in a family where her parents were first-generation immigrants and so much more.
Check out our offerings & partners: