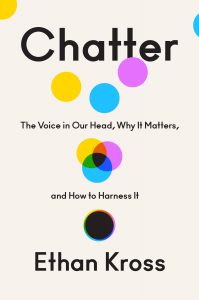 If you're like most people, there's a certain amount of chatter that goes on in your head throughout the day. But, did you know that inner dialogue can have a profound effect on nearly every aspect of your life? Today's guest, Ethan Kross, is one of the world's leading experts on controlling the conscious mind. An award-winning professor and bestselling author in the University of Michigan's top-ranked Psychology Department and its Ross School of Business, he studies how the conversations people have with themselves impact their health, performance, decisions and relationships.
Earning his Ph.D. in Psychology from Columbia University, Ethan completed a post-doctoral fellowship in social-affective neuroscience to learn about the neural systems that support self-control. He moved to the University of Michigan in 2008, where he founded the Emotion & Self Control Laboratory. Ethan's research has been published in Science, The New England Journal of Medicine, and The Proceedings of the National Academy of Sciences, among other peer-reviewed journals. He has participated in policy discussions at the White House and has been interviewed on CBS Evening News, Good Morning America, Anderson Cooper Full Circle, and NPR's Morning Edition. His pioneering research has been featured in The New York Times, The Wall Street Journal, The New Yorker, Harvard Business Review, USA Today, The Economist, The Atlantic, Forbes, and Time. And, he's the author of the National Bestseller Chatter: The Voice in Our Head, Why it Matters and How to Harness It.
You can find Ethan at: Website | Instagram
If you LOVED this episode:
You'll also love the conversations we had with Adam Grant about the value of not getting too dug in on your thinking.
Check out our offerings & partners: 
Sunday Lawn Care: Sunday takes the guesswork out of a healthy lawn with our Smart Lawn Plan subscription. With ingredients like seaweed and molasses, Sunday lawns are made for people, pets, and the planet. Visit GetSunday.com/GOODLIFE

to get $20 off your custom lawn plan at checkout!

Fiverr: Fiverr connects businesses with freelancers offering digital services in 300+ categories. Collaborating online hasn't been this easy since…ever. And right now, you can sign up for Fiverr Business absolutely FREE for the first year and save 10% on your purchase with promo code GOODLIFE when you go to Fiverr.com/business
Beachbody: 1,500+ Workout Classes And Meal Plans. Coaches To Help Define And Reach Your Health Goals.

To get a special FREE trial, no-obligation membership, text GOODLIFE to 303030. You'll get full access to the entire platform—all the workouts, nutrition information, and support—absolutely FREE.
photo credit: Jen Geer