What if most of what we've been taught about success was wrong?
That's the question we're asking today's guest, Eric Barker.  A former Hollywood screen-writer turned blogger, he shares science-based answers and expert insight on how to be awesome at life with his more than 300,000 subscribers. Barker's content is also syndicated by Time Magazine, The Week, and Business Insider and he has been featured in the New York Times, the Wall Street Journal, The Atlantic Monthly, and the Financial Times. His first book "Barking Up the Wrong Tree" is a Wall Street Journal bestseller.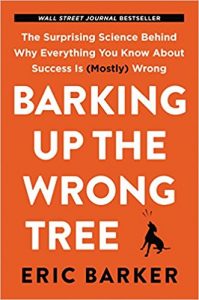 Story: Eric dives deep into the psychology of how we act in the world, often focusing on the paradoxes. The weird things we do and bringing research to illuminate why we do, how we do it. and trying to give us good wisdom to how we live our lives. 
Big idea: His deep fascination with human psychology grew a pretty giant global platform.
You'd never guess: He posted a Facebook ad in 2009 when he graduated school to get a job. He also has an undergrad in Philosophy, a degree Entertainment Production and an MBA in Marketing.
Current passion project: Reading up on The Dark Triad, the three personality characteristics that are nefarious, or evil: narcissism, Machiavellianism, and psychopathy.
Rockstar Sponsors: 
Get paid online, on-time with Freshbooks! Today's show is supported by FreshBooks, cloud accounting software that makes it insanely easy for freelancers and professionals to get paid online, track expenses and do more of what you love. Get your 1-month free trial, no credit card required, at FreshBooks.com/goodlife (enter The Good Life Project in the "How Did You Hear About Us?" section).
I'm joining Honest Tea in celebrating the lighthearted ways we're less than perfect through the #RefreshinglyHonest Project. To hear my #RefreshinglyHonest moment, check out this week's episode. Are you #RefreshinglyHonest? Share the fun and funny ways you're less than perfect on social media and tag #RefreshinglyHonest. Want more honesty? You can learn more by visiting honesttea.com/podcast