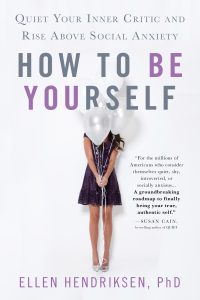 It's one thing to feel uncomfortable around others, especially new people in a new environment. But, it's another thing when those feelings fuel anxiety and, potentially, even panic and dread. And as we all emerge back into a more peopled daily life, social anxiety can be a very real issue. So, we're sharing this Best Of conversation with clinical psychologist, Dr. Ellen Hendriksen, who helps millions calm their anxiety and be their authentic selves. She serves on the faculty at Boston University's Center for Anxiety and Related Disorders (CARD) and is the author of How to Be Yourself: Quiet Your Inner Critic and Rise Above Social Anxiety.
During her tenure as founding host of the award-winning podcast, Savvy Psychologist, the podcast was downloaded 15 million times, rose as high as #3 on the overall iTunes charts, and was picked as a Best New Podcast on iTunes. Her scientifically-based, zero-judgment approach has been featured in The New York Times, The Washington Post, BBC News,  New York Magazine, The Guardian, Harvard Business Review, Scientific American, O: The Oprah Magazine, Real Simple, Business Insider, Psychology Today, Quiet Revolution, and many other media outlets.
You can find Ellen at: Website | Instagram
If you LOVED this episode:
You'll also love the conversations we had with

Emiliya Zhivotovskaya

where we dive into 20 tools to tame anxiety.
Check out our offerings & partners: 
LinkedIn Learning: Enhance your skills with over 16K+ expert-led, online video tutorials. No matter your goal, LinkedIn Learning helps you learn the skills to make it happen. Try free for 1 month at LinkedInLearning.com/FREEMONTH
Talkspace: Online Counseling Via Text, Audio, Or Video Messaging. At Any Time, From Anywhere. Get $100 off of your first month with Talkspace. To match with a licensed therapist today, go to Talkspace.com or download the app. Make sure to use the code GOODLIFE to get $100 off of your first month and show your support for the show.
Hooked on Phonics: Hooked on Phonics App lessons keep kids excited to build new reading skills. Get Started. Practice Packs bring hands-on learning home, at your child's pace! Give your child the confidence that reading brings with Hooked On Phonics. Visit hookedonphonics.com/goodlife and receive your first month for just $1.
photo credit: Matthew Guillory