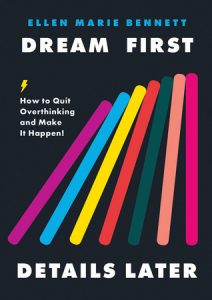 Growing up in LA, Ellen Bennett had no idea her summer spent with her grandma in a small town in Mexico would play a huge role not only his how she saw the world and related to people, but also in the career she'd eventually pursue and the company she would build. Describing herself as half Mexican, half English, born and raised in LA by a fiery mom who calls her "Mami," and having never met a color she didn't like, she is the founder of Hedley & Bennett, a company that crafts some of the coolest, most beautiful and kitchen tough aprons, worn by a lineage of many of the top chefs in the most iconic restaurants and kitchens in the world.
But she didn't start out that way. Coming out of high school, without a strong sense of direction, she got on a plane to Mexico City, alone, and vanished into the culture, building a career and life before feeling called back to LA to make her mark cooking, under the guidance of two legendary chefs and restaurateurs. But a single, fateful moment, when she heard her mentor ask a simple question, then made a promise that, at the time, she had no idea how to keep, led her to launch her own company. The adventures that followed are the stuff of legend, many of the learnings and tales are shared in her wonderful new book, Dream First, Details Later: How to Quit Overthinking & Make It Happen!, and we dive into it all in today's conversation. 
You can find Ellen at: Website | Instagram
If you LOVED this episode:
Check out our offerings & partners: 
Zocdoc: Find In-Network Doctors. Choose from the largest directory of in-person & video visit providers in the nation. Search for Doctors based on availability, location, insurance, reviews & more. Go to Zocdoc.com/GOODLIFE and download the Zocdoc app to sign-up for FREE and book a top-rated doctor. Many are available as soon as today.