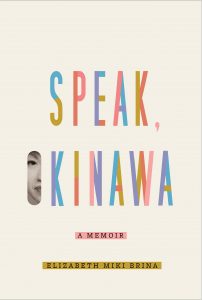 Growing up outside Rochester, New York, all Elizabeth Miki Brina knew was that she was different, an outsider, and she blamed her mom, a first-generation immigrant from Okinawa, for it all. Elizabeth's mother was working as a nightclub hostess on U.S.-occupied Okinawa when she met the American soldier who was deployed during the Vietnam war who would become her husband. Leaving her home, family, friends and culture, to move to the U.S, the language barrier and power imbalance that defined their early relationship followed them to the predominantly white, upstate New York suburb where they moved to raise Elizabeth, who felt perpetually othered among her peers, turning that feeling into a cocktail of anger and rebellion.
Decades later, Elizabeth came to recognize the shame and self-loathing that haunted both her and her mother and began a process of reconciliation, not only to come to terms with the embattled dynamics of her family but also to reckon with the injustices that reverberate throughout the history of Okinawa and its people. She came to see the profound courage and strength and saw her parents enduring marriage in a profoundly different light. We dive deep into this journey, which is beautifully detailed in Elizabeth's haunting memoir, Speak, Okinawa, which is a heartfelt exploration of identity, inheritance, forgiveness, and what it means to be at peace with who you are.
You can find Elizabeth at: Website
Check out our offerings & partners: 
ShipStation: Shipping software is designed to save you time and money on eCommerce order fulfillment. Ship more in less time. Use offer code, GLP, to get a 60-day free trial. That's 2 months FREE of no-hassle, stress-free shipping. Just go to ShipStation.com, click on the microphone at the top of the page, and type in GLP.
Theragun: A deep muscle massage treatment unlike anything you've ever felt. Feel better, move better, and recover faster with tension and soreness relief. Try Theragun for 30-days starting at only $199. Go to Theragun.com/GOODLIFE right now and get your Gen 4 Theragun today.