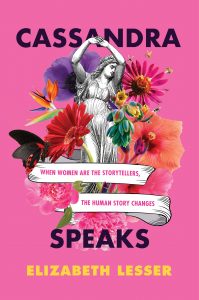 Elizabeth Lesser wants to set the record straight. The one that started all the way back with Adam and Eve. The origin story that positioned man as firstborn and favored and women as second-born and scorned. The mythology that seems to exist in nearly every faith, tradition, culture and history about the "place" of women in relationships, family, society, business, power and the world. Lesser decided it was time to do some myth-busting, some reconciliation and some reimagining about what this world, on every level, might look like if truth found its way into the narrative and power were more evenly distributed.
As the co-founder of the iconic Omega Institute, recognized internationally for its workshops and conferences in wellness, spirituality, creativity, social change and women's leadership, Elizabeth has been gathering people from all walks of life to explore the intersection between gender, power, equity and impact for more than 40 years. She has presented at TED, was named to Oprah's Super Soul 100, and is the author of several bestselling books, including Broken Open: How Difficult Times Can Help Us Grow, and Marrow: Love, Loss & What Matters Most, which first brought her onto the podcast a few years back and also led to the gift of her friendship since. Her newest book Cassandra Speaks: When Women are the Storytellers, the Human Story Changes is a powerful and compelling dive into the stories society has told about women and power, along with a rally cry and a reclamation to tell a different story and build a different world.
You can find Elizabeth Lesser at: Website | Instagram
Check out our offerings & partners: 
Peloton: Experience game-changing cardio with the Peloton Bike. Visit onepeloton.com to learn more. 
Reliefband: Reclaim your life from the fear of nausea. Go to reliefband.com and use promo code GOODLIFE you'll receive 20% off. 
Photo credit: Dion Ogust