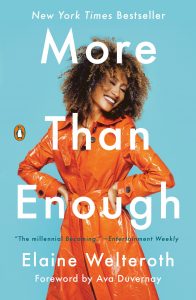 Elaine Welteroth is a New York Times bestselling author, an award-winning journalist and a producer and judge on the new Project Runway. She is known for her groundbreaking work at the helm of Teen Vogue, where she was appointed the youngest ever Editor-in-Chief at a Conde Nast publication in 2017, transforming the magazine into a platform for advocacy and social activism. She's now a leading expert and advocate for the next generation of change-makers. Welteroth was recently appointed Cultural Ambassador for Michelle Obama's When We All Vote initiative. Her writing appears in The New York Times, British Vogue, and The Hollywood Reporter. She has written for the hit show Grown-ish and has appeared on-camera for a range of media outlets including ABC News and Netflix. Welteroth released her first book More Than Enough: Claiming Space for Who You Are No Matter What They Say in June 2019. Her debut literary work became an immediate New York Times bestseller and was the recipient of the 2020 NAACP Image award for Outstanding Literary Work.
You can find Elaine Welteroth at: Book | Instagram
Check out our offerings & partners: 
My New Book Sparked
My New Podcast SPARKED
BLUblox: Get your energy back, sleep better, and block out the unhealthy effects of blue light with BLUblox. Go to BLUblox.com today and get free shipping worldwide and 15% off with the code GOODLIFE.
AquaTru: Receive $100 off an AquaTru plus free shipping when you go to AquaTru.com & enter code GOODLIFE at checkout.
The Jordan Harbinger Show is where self-motivated people, just like you, dig deep into the untapped wisdom of the world's top performers — from legendary creators to intelligence operatives, iconoclastic writers to visionary change-makers.
Photo credit: Joshua Kissi