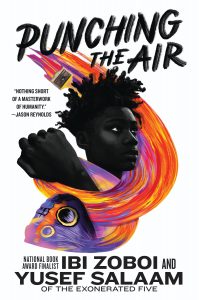 Today is a special conversation, featuring two guests. Dr. Yusef Salaam was just fifteen years old when his life was upended after being wrongly convicted with four other boys in the "Central Park jogger" case. In 2002, after the young men spent years of their lives behind bars, their sentences were overturned. Now known as the Exonerated Five, their story has been documented in the award-winning film The Central Park Five by Ken Burns, Sarah Burns, and David McMahon and in Ava DuVernay's acclaimed series When They See Us. Yusef is now a poet, activist, and inspirational speaker. He is the recipient of a Lifetime Achievement Award from President Barack Obama, among other honors. 
Ibi Zoboi is a novelist and editor, born in Haiti, and raised in Brooklyn, she found a love of writing, and poetry and eventually pursued an MFA from Vermont College of Fine Arts, before launching a career in journalism and then fiction. Her novel American Street was a National Book Award finalist and a New York Times Notable Book. She is also the author of Pride and My Life as an Ice Cream Sandwich, a New York Times bestseller, and it the editor of the anthology Black Enough. 
The two met briefly some 21 years ago, for a walk and talk that would eventually bring them back together to collaborate on a YA novel called Punching the Air that integrates Yusef's story, poetry and illustrations with Ibi's powerful storytelling to create a novel in verse that speak powerfully to issues of equity, dignity, art as a form of therapeutic depression and restoration. We drop into so many points along each of their journeys, how they first met and the context for that meeting that would change both their lives and nearly 20 years later, they came back together to co-create this rich novel in verse.
You can find Ibi Zoboi at: Website | Instagram
You can find Dr. Yusef Salaam at: Website | Instagram
Check out our offerings & partners: 
Netsuite: Receive your FREE guide – "Seven Actions Businesses Need to Take Now" and schedule your FREE Product Tour – at NetSuite.com/GOODLIFE
GiveWell: GiveWell searches for the charities that save or improve lives the most per dollar. Get your first donation matched – up to $100 when you go to GiveWell.org/GOODLIFE and select PODCAST and Good Life Project at checkout.
Photo credit: Joseph Zoboi & Staci Marie Studio