Dr. Tererai Trent is an internationally acclaimed voice for women's empowerment and education.
Hailed by Oprah Winfrey as her "all-time favorite guest," Dr. Trent is an inspiring and dynamic scholar, educator, humanitarian, speaker, author, and the founder of Tererai International.
Born in a small village with no electricity or running water in Zimbabwe (then, Rhodesia), she was married in her early teens as was the custom, had four children by age 18 and suffered repeated physical abuse from her husband.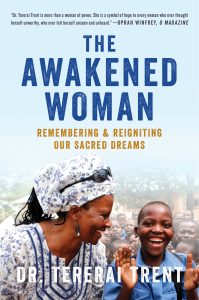 The Awakened Woman – Remembering & Reigniting Our Sacred Dreams
Rockstar Sponsors:
Thrive Market: Get $60 of FREE organic groceries + free shipping and a 30-day trial atthrivemarket.com/goodlife.
RXBAR Kids is a snack bar made with high-quality, real ingredients designed specifically for kids. It contains 7 grams of protein and has zero added sugar and no gluten, soy or dairy. Find at Target stores OR for 25% off your first order, visit RXBAR.com/goodlife.
Are you hiring? Do you know where to post your job to find the best candidates? Unlike other job sites, ZipRecruiter doesn't depend on candidates finding you; it finds them. And right now, GLP listeners can post jobs on ZipRecruiter for FREE, That's right. FREE! Just go to ZipRecruiter.com/good.
Audible has the best audiobook performances, the largest library, and the most exclusive content. Learn more, start your 30-day trial and get your first Audible book free, go to Audible.com/goodlife.
MVMT Watches (pronounced Movement) was founded on the belief that style shouldn't break the bank. Classic design, quality construction and styled minimalism. Get 15% off today —WITH FREE SHIPPING and FREE RETURNS—by going to MVMT.com/good.
Support for this podcast comes from abc, presenting "Kevin Probably Saves the World", the new drama that will change the way you feel…about the Universe. New episodes every Tuesday at 10/9 Central on abc.
Photo credit: Bud Harmon