This week, my special guest is Dr. Shefali Tsabary. If her name sounds familiar, you may have seen one of her appearances as the resident parenting expert on Oprah.
Dr. Shefali is the author of multiple books, including her latest, The Awakened Family. She is a clinical psychologist with an incredibly unique East-meets-West approach to helping adults become who they need to be through a relationship with children.
I knew that I needed to have Dr. Shefali on the show to share her incredible insight on the anxiety that many families experience. This anxiety can be present not only between parents and children but also between adults.
As we talk today, Dr. Shefali shares her own personal journey, from growing up in Mumbai in a strongly patriarchal society to finally striking out on her own and heading to San Diego and then New York. Her growth is an inspirational story of what you can achieve with supportive parents, a dream and the drive to succeed.
Listen in to learn to determine how to help people to emerge into a life that's happy, fulfilled and in a place where you can be truly yourself.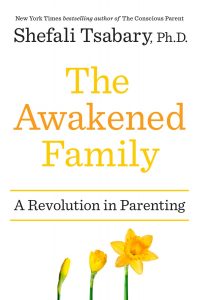 In This Episode, You'll Learn:
How Dr. Shefali experienced the death of her former life…and why you might want to as well.
Why, as parents, we need to let go of what "we" want for our kids.
How kids can be a profound vessel of liberation for parents
Why we are so afraid to step into who we truly are.
The unique way Dr. Shefali's parents helped her to become who she is today.
What Dr. Shefali holds most sacred for childhood development.
Be mindful of your child's journey of figuring out who they are.
Why Dr. Shefali has a deep respect and reverence for Sigmund Freud.
Mentioned in This Episode:
Be sure to subscribe to our weekly Good Life Updates and listen on iTunes to make sure you never miss an episode!
—
Photo credit: Lily Rose