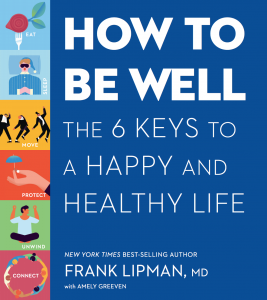 Dr. Frank Lipman, a pioneer in both integrative and functional medicine, is the founder and director of Eleven Eleven Wellness Center in New York City, a New York Times best-selling author and the creator of Be Well, a lifestyle brand that helps people achieve genuine and sustainable life changes. We explored his moving personal journey from South Africa to NYC in a prior episode. Today, drawing from his newest book, How to Be Well, we dive into Lipman's "Good Medicine Mandala" and six pillars of health with specific, often contrarian advice on everything from fasting and fat to sleep and sunshine.
+———————+
GLP Update: Camp Good Life Project – $200 Super Early Bird Discount! Join us for 3 ½ mind-bending days of deep-learning, epic stories, friends-for-life, juicy adventures and ideas, strategies and tools for accelerated personal and business growth! It only happens once a year in August, and more than half the spots are already taken (we sold out months early last year and had to turn-away many amazing folks). Learn more now and grab your spot!
We're grateful for the kind support of: 
ShipStation: Manage and ship your orders. FREE for 30 days, plus a bonus. Visit ShipStation.com, click on the microphone at the top of the homepage and type in GOODLIFE.
QUIP: QUIP starts at just $25 and, if you go to GetQuip.com/GoodLife right now, you'll get your first refill pack FREE with a QUIP electric toothbrush.
FULLY: So get your body moving in your workspace, go to FULLY.com/GoodLife. Fully. Desks, chairs, and things to keep you moving.