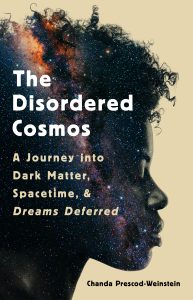 One of the leading physicists of her generation, Dr. Chanda Prescod-Weinstein is a Professor of Physics and Core Faculty Member in Women's and Gender Studies at the University of New Hampshire. She's also one of fewer than a hundred Black American women to earn a Ph.D. from a department of physics. Born in East Los Angeles, a devout Dodgers fan, she's a citizen of both the United States and Barbados and a descendant of Afro-Caribbean and Ashkenazi Jewish immigrants. Chanda decided to become a theoretical physicist at the age of 10, after an experience, which we dive into, lit a fire of curiosity and possibility. Her vision of the cosmos is vibrant, buoyantly non-traditional, and grounded in Black feminist traditions. 
A powerful voice in her field, Chanda urges us to recognize how science, like most fields, is far from an equal playing field, with racism, sexism, and other dehumanizing systems playing a role not only in who participates in the field but also in the essential nature of the work and the potential discoveries and insights it yields. She lays out a bold new approach to science and society that begins with the belief that we all have a fundamental right to know and love the night sky. In her groundbreaking new book, The Disordered Cosmos, Chanda shares her love for physics, from the Standard Model of Particle Physics and what lies beyond it, to the physics of melanin in skin, to the latest theories of dark matter — all with a new spin informed by history, politics, and the wisdom of Star Trek. We explore her personal journey and many of these ideas in today's conversation.
You can find Chanda at: Website | Instagram
If you LOVED this episode:
My new book is available!
Check out our offerings & partners: 
Peloton: Access high-energy workouts, instantly. Discover Peloton: streaming fitness classes to you live and on-demand. With the Peloton Bike, there's nothing like working out from home. Learn more at onepeloton.com. New members can try Peloton classes free for 30 days at onepeloton.com/app. Terms apply.
Canva: Create beautiful designs with your team. Use Canva's drag-and-drop feature and layouts to design, share and print business cards, logos, presentations and more. Design like a pro with Canva Pro! Right now, you can get a FREE 45-day extended trial when you use my promo code! Just go to Canva.me/GOODLIFE