Today's guest, Dr. Aviva Romm, has been referred to as "the face of natural medicine in the 21st century by Prevention Magazine."
She's a Yale-trained, board-certified physician with a specialty in women's health and obstetrics; a midwife and herbalist, and a founding member of the Yale Integrative Medicine Program's Advisory Board.
Dr. Romm practices medicine in New York City and is a nationally sought speaker, author, and consultant. She is also one of the nation's leaders in botanical medicine and is the author of 7 books on natural medicine.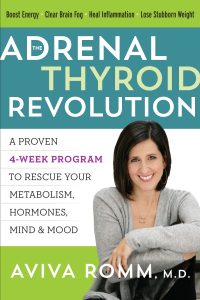 In this week's episode, we begin with her service-mission to Haiti after the earthquake, then find our way back to explore the key ideas from her groundbreaking new book, The Adrenal Thyroid Revolution. Aviva describes a pervasive yet often undiagnosed condition—Survival Overdrive Syndrome (SOS)—which leads to the feeling of being in perpetual survival mode, overcome by everything from fatigue, overwhelm and brain-fog to pain, disease and even death, when left unaddressed.
We also explore how so many of us push beyond what our physiological and psychological systems are adapted to be able to handle healthfully, all in the name of a success that ends up leaving us gutted and exhausted. Critically, she offers ways to identify the symptoms of SOS that can so quickly drain our Vitality Buckets and make our good life feel perpetually beyond reach.
And, we talk about the key steps to take to advocate for ourselves, find the right answers and people to help us, and also begin to walk the road back to health ourselves through a series of simple, yet proven lifestyle interventions. Her full recovery protocol is offered in an immensely "doable," practical and powerful 4-week program in her book.
Mentioned in This Episode:
Be sure to subscribe to our weekly Good Life Updates and listen on iTunes to make sure you never miss an episode!
+++THIS WEEK'S PODCAST IS BROUGHT TO YOU BY+++
Today's episode is sponsored by Camp GLP, the ultimate summer-camp for entrepreneurs, makers and world-shakers!