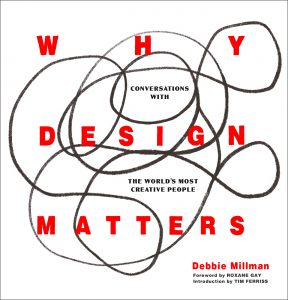 How do you design a life of wonder and love, contribution and meaning, joy and expression? At the end of the day, that's what we all really want. To know we've used our time on this big, blue marble in a way that was worthy, that was wise, that was alive. Which is why I was so excited to sit down with an old friend, Debbie Millman, who just happens to be a legendary thinker and doer in the world of design, branding, innovation and life. Named "one of the most creative people in business" by Fast Company, she's an author, educator, curator and host of the iconic Design Matters podcast, where she's interviewed hundreds of the most creative people in the world over the past 17 years. 

Debbie is also the author of seven books, and her new book, Why Design Matters: Conversations with the World's Most Creative People, is a stunning compilation of her own take on everything from design to branding, business, entrepreneurship and life, mixed in with moments from guests that have, in no small part, collectively designed the world we live in.

Debbie co-founded the world's first graduate program in branding at the School of Visual Arts in New York City, was the President one of the world's leading branding consultancies, Sterling Brands, where she worked on the brand identity for everyone from Burger King, Hershey's, Haagen Dazs, Tropicana, Star Wars, Gillette, to the No More movement.

Her writing and illustrations have appeared in The New York Times, The Washington Post, New York Magazine, Print Magazine, and Fast Company. Her artwork is found in private collections, universities and museums around the world. Debbie has a deeply insightful and experienced lens on how we live our lives, how we show up in work and life, and tell the stories that bring it all alive.
You can find Debbie at: Website | Instagram
If you LOVED this episode:
You'll also love the conversations we had with Milton Glaser about building a life of meaning and impact.
My new book is available!
 Check out our offerings & partners: 
photo credit: John Madere Photography