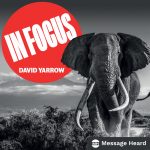 David Yarrow is one of the world's best-selling fine art photographers. He has spent the past decade documenting the natural world from new perspectives, and his distinctive, evocative and immersive photography of life on earth has earned him an ever-growing following amongst art collectors as a relevant artist of his generation. His limited edition works regularly fetch record bids of over $100,000 at auction houses such as Sotheby's. He is also a passionate philanthropist and conservationist, and holds multiple ambassadorships including those for WildArk, Nikon, Land Rover and UBS and has donated millions to wildlife and sustainability causes. But, here's the thing, this almost never happened. 
David's career had a bit of a false start when, on break from university, he talked his way into a world cup soccer match and captures a legendary image of iconic soccer star, Maradonna. But, instead of embracing a career in photojournalism, he went into finance where he was building a big reputation. For decades. Until a series of experiences led him to walk away from it all and step back into the world of photography but in a very different way.
You can find David at: Website | In Focus Podcast | Instagram
If you LOVED this episode:
You'll also love the conversations we had with Mark Mann, who is a tremendous photographer who has captured so many icons of film stage business performance and life in the stunning hyper closeup, hyper vivid images, and his backstory is really funny and really tremendous and similar to David Yarrow.
You'll also love the conversations we had with the artist, Peter Tunney, who actually started his career in the world of biotech and similar to Yarrow, ended up dropping into this world of art. And then one day waking up and saying, I am an artist. And from that point forward, devoting himself wholeheartedly to it and building a stunning career in almost every form of media has worked kind of defies categorization.
Check out our offerings & partners: 
Peloton: Access high-energy workouts, instantly. Discover Peloton: streaming fitness classes to you live and on-demand. Get started on your Peloton journey. Go to onepeloton.com to learn more.
Expensify: Automate your pre-accounting process for expenses, bills, invoices, and more with the world's most widely-used expense management service. Approval Workflows. Realtime Customer Support. Next-Day Reimbursements. Company Card Management. Visit Expensify.com/goodlife to get started with a free trial. 
Klaviyo: Increase your average order value & volume—Klaviyo accelerates e-commerce sales. Launch sophisticated email automations in minutes. To get started with a free trial of Klaviyo, visit Klaviyo.com/listen