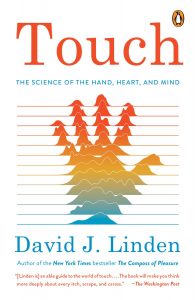 Ever wonder why the exact same touch by one person will give you the creeps, but by another will make you yearn for more?
On this episode of The Good Life, I am excited to bring you David Linden, a Johns Hopkins Neuroscientist and New York Times best-selling author of Touch: The Science of Hand, Heart, and Mind.
The research that David has been conducting on the effects of touch on the human mind is a powerful reminder of the role touch plays in nearly every aspect of human development. Everything from love to intelligence, sex to attachment, orgasm or itch and beyond… basically, anything we touch or get touched by profoundly influences our personality, perception of people and the world.
Whether touch is given or withheld at any age can shape the entirety of our beings. Our neurology, psychology and our ability to live functional, good lives is dependent on touch.
If you have ever wondered why touch is so important to the development of infants, or why we find touch so vital to our own mental well-being, you are going to want to turn up the volume and listen in. David answers all of these questions and so many more.
In This Episode, You'll Learn:
The events that led David to write three books on touch.
The catastrophic results when loving touch is withheld from infants.
How appropriate touch can change the way a patient views a doctor's effectiveness and care.
How incidental sensory experiences can influence our impressions of others.
What touch actually is and how we've adapted different mechanisms to experience it.
How touch is involved with everything from orgasm to reading Braille.
How touch varies across cultures.
Why sexual touch is so powerful.
Mentioned in This Episode:
Be sure to subscribe to our weekly Good Life Updates and listen on iTunes to make sure you never miss an episode!
—
Photo credit: Jacob Linden