Danielle LaPorte is soul-personified.
I've known her for nearly a decade, and in that time, while so much has changed, one thing has remained consistent. Her fierce devotion to truth, to love, to kindness and the creation of beauty.
Over that same time, she's left a trail of both massive successes and a few equally-notable misses. What I love about D is, she wouldn't have it any other way. Because it's that path, all of it, the spiritual nature of evolution and entrepreneurship, creation and destruction that's led her to this place in her life. Being deeply-present and utterly lit-up.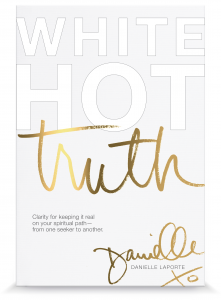 Along the way, LaPorte has become an invited member of Oprah's inaugural Super Soul 100, authored and produced The Fire Starters Sessions, The Desire Map, a stunning series of planner planners, a top 10 iTunes app, and an international workshop program with licensed facilitators in 15 countries and a rapidly-growing company.
Her new book, White Hot Truth is now available for pre-sale and it lives up to its name. LaPorte wanted to write this book 7 years ago. We dive into why it didn't happen, why that's a really good thing and so much more in today's provocative and unfiltered conversation. Woven throughout, thoughts on devotion, truth, preaching, permission, kindness, joy, parenting, gurus and ease. Listen the first time for fun, then a second time with a pen in hand. This is Danielle teaching from the heart. Get the White Hot Truth audiobook for free when you order a print copy HERE.
+++ Today's Sponsors +++
Today's show is supported by Bombas socks. They're ridiculously yummy and when you buy a pair, they give a pair to someone in need. Grab your first order today and get 20%-off when you enter the code GOODLIFE at checkout. Go to BOMBAS.COM/GOODLIFE.
Good Life Project is also supported by FreshBooks, cloud accounting software that makes it insanely easy for freelancers and professionals to get paid online, track expenses and do more of what you love. Get your 1-month free trial, no credit card required, at FreshBooks.com/goodlife (be sure to enter The Good Life Project in the "How Did You Hear About Us?" section).  
photo credit: Catherine Just