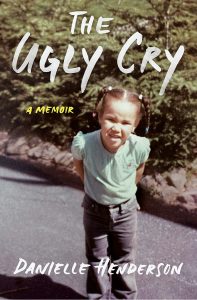 Danielle Henderson is a TV writer, former editor for Rookie, cohost of the film podcast I Saw What You Did, and author of the achingly poignant and funny memoir, The Ugly Cry. Abandoned at ten years old by a mother who chose her drug-addicted, abusive boyfriend, she was raised by grandparents who thought their child-rearing days had ended in the 1960s. She grew up, in her words, "Black, weird, and overwhelmingly uncool in a mostly white neighborhood in upstate New York, which created its own identity crises." Under the eye-rolling, profanity-laced, yet unconditionally loving tutelage of her uncompromising grandmother—and the horror movies she obsessively watched—Danielle found writing as a powerful outlet and form of creative expression. Along the way, she's written for many major outlets, TV shows, and as she shares, "she drove from New York to Alaska by herself, survived a bear chase, four Alaskan winters, junior high school, working in a convent, Aquanet hairspray, acid wash jeans, and the entirety of the Mets' 1987 season." We talk about it all in today's conversation.
You can find Danielle at: Website | Instagram | I Saw What You Did podcast
If you LOVED this episode:
You'll also love the conversations we had with New York Times bestselling author of the memoir Somebody's Daughter,  Ashley C. Ford.
Check out our offerings & partners: 
Peloton: Access high-energy workouts, instantly. Discover Peloton: streaming fitness classes to you live and on-demand. Get started on your Peloton journey. Go to onepeloton.com to learn more.
Fiverr: Fiverr connects businesses with freelancers offering digital services in 300+ categories. Collaborating online hasn't been this easy since…ever. And right now, you can sign up for Fiverr Business absolutely FREE for the first year and save 10% on your purchase with promo code GOODLIFE when you go to Fiverr.com/business
My new book, Sparked: Discover Your Unique Imprint for Work that Makes You Come Alive is now available for pre-order at https://sparketype.com/book/