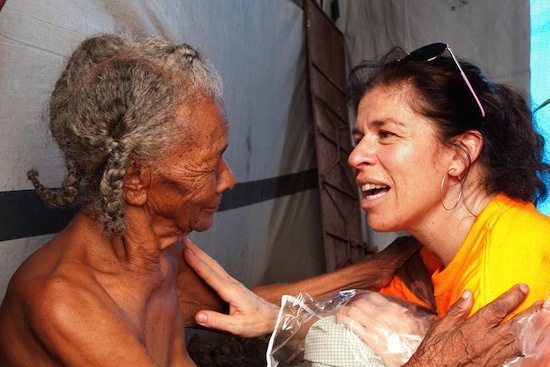 "People who are not listened to need those who are listened to to fight like hell for them."
How many times have you heard an inspiring story of incredible service and heart and then thought, "How does that even get started?"
Probably a lot.
Because the truth is, most of us would love to create an impactful, service-oriented mission in our lives, but we're overwhelmed with the sheer logistics, let alone cost.
Danielle Butin was no different, except that she didn't let those obstacles deter her.
After decades of a highly successful career in occupational therapy and geriatric care, she found herself at a personal and professional crisis.
So she took a trip to Tanzania.
And what she experienced there left a mark so deep on her heart, she couldn't ignore it. Even though she tried.
In this conversation, we get to hear the raw, unfiltered truth about how Danielle had to do the work of "undoing" her professional habits and mindset in order to get her non-profit, Afya Foundation, going.
She opens up about the toll it took on her family, how she found funding and supplies, and how to be direct in communicating what you need to happen (even across the world with a translator).
She peels back the covers on how people react to you when you park a semi-truck full of medical supplies in front of your house, when you dumpster dive in the city, and when you stand up to corrupt systems.
Danielle's story is so full of vision and passion, it will have you changing your entire perspective on what's possible when your heart calls you to do something you've never done before.
It's my honor and delight to introduce you to the extraordinary heart and mind of Danielle Butin.
Some questions I ask:
How old were you when you started to notice your love of elderly people?
Why would a corporation not preserve a model that is successful both financially and functionally?
How do you cover the financial needs of a growing non-profit?
Links we mention:
Afya Foundation
Mountains Beyond Mountains
Partners in Health
Pencils of Promise
Follow Afya Foundation:
"It was about creating a new reality and listening to other people and not just what I knew."
If you enjoyed this episode, subscribe below and listen and subscribe on iTunes to make sure you never miss an episode.
+++
GOOD LIFE PROJECT IMMERSION 2015 – Once a year, we open enrollment for an intimate group of conscious entrepreneurs and world-shakers to join Jonathan and a world-class faculty for a 7-month accelerated personal and business growth experience designed to teach you how to build not just a great living, but an extraordinary life. If that sounds interesting, come and learn more about it here.