To be amazing at any one thing, do you have to abandon everything and everyone else along the way? Or, is there a better way?
That's the question that has obsessed with week's guest, Dan Lerner, for his entire adult life.
The son of world-class classical musicians and an accomplished cellist himself at an early age, he was exposed to a world of devotion and mastery. He saw people in this community who'd figured out how to build a living around what they loved, become masters of their craft and also live rich, joyous, connected and full lives outside of their careers. And, he assumed that's just "the way it was."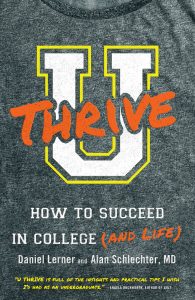 Until he took a job as an agent representing many of the best musicians in the world, and learned the cold, hard truth. For so many, the quest to be the best came not with fulfillment, but with the abandonment of relationships, health, self-care and any semblance of humanity. He believed there had to be a different way.
This led Dan on a quest away from agenting and found him studying with legendary professors in the world of performance and positive psychology. He eventually pursued a Masters degree in positive psychology, became a strengths-based performance coach working with elite performing artists, athletes and executives and found himself teaching at NYU and University of Pennsylvania.
He now co-teaches the most popular elective class at New York University, "The Science of Happiness," and his new book, "U Thrive: How to Succeed in College (and Life), is a compelling deep-dive into how to not just excel in academics or work, but how to do it in a way that also let's you live a great life along the way.
+++ Today's Sponsor: Bombas Socks +++
Today's show is sponsored by Bombas socks. Why do we love them? It's not just because they're ridiculously yummy, or that they spent years re-engineering socks to create all sorts of crazy-cool features, like mid-arch support and special heel tabs that protect the backs of your ankles. It's also because when you buy a sock, they give a pair of socks to homeless shelters. Grab your first order today and get 20%-off. Go to BOMBAS.COM/GOODLIFE.
Photo credit: Jonathan Mannion