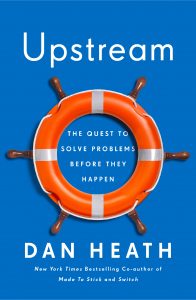 Dan Heath is the co-author, along with his brother, Chip, of four New York Times bestselling books: Made to Stick, Switch, Decisive, and The Power of Moments. The Heath Brothers' books have sold over three million copies worldwide and been translated into 33 languages. But, interesting, separated by 10 years, the two weren't super close until they began to collaborate later in life. Their work has transformed not only the lives of millions of readers, but along the way, two brothers as well. Dan's new book – his first solo release – Upstream: The Quest to Solve Problems Before They Happen debuted in March 2020 and was an instant Wall Street Journal bestseller. Dan is a Senior Fellow at Duke University's CASE center, which supports entrepreneurs who are fighting for social good. He lives in Durham, North Carolina.
You can find Dan Heath at: Website
Check out our offerings & partners: 
ShipStation: Try ShipStation FREE for 60 days when you use the offer code GOODLIFE. Get started at ShipStation.com today! Click on the microphone at the TOP of the homepage and type in GOODLIFE.