Courtney Carver believes simplicity is the way back to love. But, her wake-up call was a diagnosis of MS.
A mom, wife, and creative pro, Courtney Carver was building a living in the advertising industry, and a beautiful family. Then, in 2006, everything changed. She was diagnosed with Multiple Sclerosis. Carver went on a journey to figure out how to reclaim as much of life as she could and identify what made things better or worse.
Stress, she discovered, made everything worse. So, she was determined to eliminate as much stress as possible for a happier, healthier life. Along the way, she made another discovery, the common thread in every "de-stressing" change she made from diet to debt was simplicity.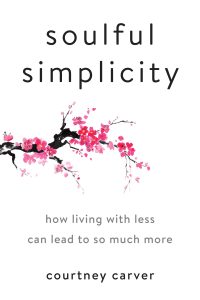 So, she began to simplify every aspect of her life, and the change not just emotionally, but physically was remarkable. Simplicity was literally changing her body, her symptoms, her relationships and life. She began sharing her experiments on a blog, bemorewithless.com, that eventually took off, launched minimalist fashion challenge called Project 333 and the Tiny Wardrobe Tour to share her stories of living with less and connect with like-hearted people.
Her new book, Soulful Simplicity Carver shares this moving journey.
In today's conversation, we explore Courtney's early interests, including a love or art and photography, how she made her way into the "business" side of advertising and built a career. We dive into the changes in her body and the moment that led her to the doctor where she'd learn she had MS. We talk about how she "broke the news" to her husband and daughter, stumbled upon the connection between stuff and stress, then rebuilt her life and living around the idea of simplicity as a path to ease, love and soul.
+——————–+
We're grateful for the kind support of: 
ShipStation: Manage and ship your orders. FREE for 30 days, plus a bonus. Visit ShipStation.com, click on the microphone at the top of the homepage and type in GOODLIFE.
Tunein: Catch all-new episodes of some of your favorite podcasts early with TuneIn First Play? Download the free TuneIn app now.
Videoblocks:  Go to videoblocks.com/goodlife to get all the stock video, audio, and images you can imagine for just $149.
Photo credit: Jamie Griffin