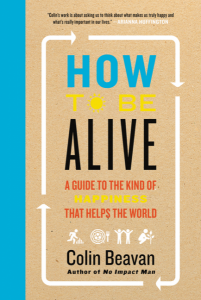 Colin Beavan burst into the public consciousness in a huge way with a documentary and international bestselling book called No Impact Man that documented his yearlong experiment to live in the middle of New York City with his family creating zero environmental impact.
That experience opened his eyes to the power daily choices can have not only his own life, but the world around him. But, it also did something else. It triggered a deeper interest in exploring many of the big questions in life, the heart of which is not just how to be a good steward of the planet, but how to live a good life along the way.
Consumed by the question he spent years diving into research, interviewing people and began to realize that our ability to live good lives is intimately tied to the way we relate to and serve those around us, and the planet that sustains us. It's about moving away from materialism and toward competence, and so much more. Diverging from convention, he shares much of what he's discovered in a wonderful new book, How to Be Alive.
We sat down with Colin to record a deeply-personal and passionate conversation, geeking out on stories, eye-opening studies on rarely spoken about human needs and so much more, all in the name of pulling back the curtain on what really matters as we navigate our time on the planet.
Be sure to subscribe to our weekly Good Life Updates and listen on iTunes to make sure you never miss an episode!