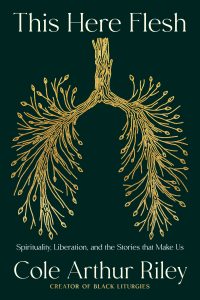 Cole Arthur Riley grew up in a house full of personalities that she describes as loud and funny, but as a kid, as loved as she felt, she kept her voice from others. In fact, Cole barely spoke until she was 7. Still, her dad kept finding ways to, as she described, bribe her to share her voice and nurture her creative impulse, often in writing, from poems to stories and beyond. As she grew into herself, she developed a dual passion for contemplative spirituality, and also the work of writers, like Audre Lorde, Octavia Butler, James Baldwin, Thomas Merton, Toni Morrison, Maya Angelou. Over time, her lens on spirituality yearned for a more expansive expression, one that embodied more of her lived experience as a Black, queer woman, who'd also find herself living with an autoimmune disease that manifested in illness, pain, and uncertainty.
Cole was drawn to liturgy and began to write her own blended prayer-meets-poetry, informed by her, unique experience of life, faith, love, creativity, harm, inequity, and justice. She began sharing these modern liturgies on Instagram under the moniker, Black Liturgies, which she describes as a space for Black spiritual words of liberation, lament, rage, and rest. The project quickly grew into a global phenomenon, with deep resonance far beyond her original intended audience, and led to her debut book, This Here Flesh: Spirituality, Liberation, and the Stories That Make Us, which explores some of the most urgent questions of life, identity, and faith: How can spirituality not silence the body, but instead allow it to come alive? How do we honor, lament, and heal from the stories we inherit? How can we find peace in a world overtaken with dislocation, noise, and unrest? In this stunning work, Cole invites us to descend into our own stories, examine our capacity to rest, wonder, joy, rage, and repair, and find that our humanity is not an enemy to faith but evidence of it.
You can find Cole at: Website | Instagram
If you LOVED this episode:
You'll also

love the earlier conversation we had with

Ashley C. Ford about her sense of identity, creativity, and expression.
My new book is available!
Check out our offerings & partners: 
My New Book Sparked
My New Podcast SPARKED: 

We're looking for special guest "wisdom-seekers" to share the moment you're in, then pose questions to Jonathan and the Sparked Braintrust to be answered, "on air."

To submit your "moment & question" for consideration to be on the show go to

sparketype.com/submit.