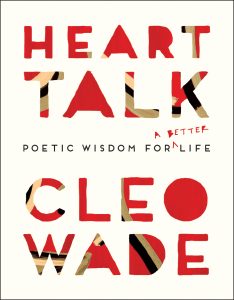 Artist, poet, activist and author, Cleo Wade, likes to say she has three parents, her mom, her dad and the city of New Orleans.
Wade's new book, Heart Talk: Poetic Wisdom For a Better Life, is a moving collection of poems, provocative thoughts and moments that leave you questioning the status quo and opening your heart and mind to a different set of possibilities. Her artwork includes everything from short, hand-written posts shared with her giant following on Instagram to collaborations with major brands and large-scale public art installations, including a 25-foot love poem in the skyline of the New Orleans French Quarter titled "Respect."
In today's episode we explore how being raised as a mixed-race kid in the famed New Orleans French Quarter by two fiercely-creative parents influenced her, how hurricane Katrina changed everything, why she moved to New York, how she walked away from a career as a rising star in fashion to rediscover and cultivate a deeper, artistic voice as a writer and artist, sharing her work online and in public spaces and leveraging her influence for social justice. Be sure to listen to the end, where Cleo reads a moving poem from her new book.
Check out offerings & partners: 
Photo Credit Liza Voloshin