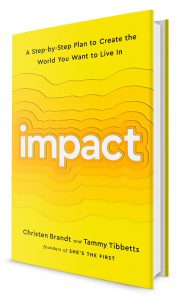 Christen Brandt and Tammy Tibbetts are on a mission to unlock the potential of girls and women, especially in parts of the world where they're often excluded from education and, in turn, much of life and the opportunity to help shape their communities and lives in a meaningful way.
Both Christen and Tammy grew up in households where they were loved and supported, taught to believe in themselves and the power of education and become strong advocates. They were the first in their families to go to college, and both landed in the fashion magazine world in New York after graduating, where they started building careers and rising up in the industry. 
But an increasing awakening to inequity led them into a collaboration that would start as a viral video to raise awareness and eventually lead them out of the world of magazines and to co-found a foundation to help women and girls globally become educated, called She's the First. Along the way, they've reimagined the foundation model, becoming leading voices in a new approach to philanthropy that has revolutionized outdated models by shifting power to the most vulnerable. So many people starting coming to them to learn more about how to step into the world of giving in a different way, they decided to distill their philosophy and strategies into a powerful new book, Impact: A Step-by-Step Plan to Create the World You Want to Live In
You can find Christen Brandt & Tammy Tibbetts at: She's the First
Check out our offerings & partners: 
Kettle & Fire: Kettle & Fire's bone broth is made with all organic ingredients and bones from 100% grass-fed cows. Go to kettleandfire.com/GOODLIFE and use promo code GOODLIFE, to receive 20% off.
Plushcare: Book a same-day appointment with a top online doctor. Get diagnosed and prescribed in as little as 15 minutes. Make your appointment today. Go to PlushCare.com/GOODLIFE.
Photo credit: Gaby Deimeke