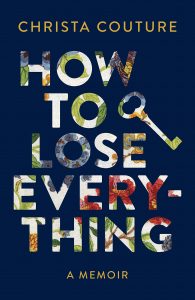 Christa Couture is an award-winning performing and recording artist, filmmaker, writer and broadcaster. She is also proudly Indigenous (mixed Cree and Scandinavian), queer, disabled, and a mom. Her seventh album Safe Harbour was released on Coax Records in 2020. As a writer and storyteller, Christa has been published in Room, Shameless, and Augur magazines, she's gone viral on CBC with an article and photos on disability and pregnancy. Christa's also a frequent contributor to CBC Radio and is currently the weekday afternoon host on 106.5 ELMNT FM in Toronto. 
Her life has been both extraordinary and fiercely engaged. She is utterly awake, connected, and alive, which is a powerful state, given the stunning amount of loss that's touched down in her life, from the loss of her leg as a child to the loss of children, a sense of identity, community, and the need to find a way to reimagine life, to not just exist, but also live in the face of deeply challenging circumstance. In her debut memoir How to Lose Everything, she shares many stories and we dive into her extraordinary path, revelations and lens of life, possibility, hope and grace.
You can find Christa Couture at: Website | Instagram
Check out our offerings & partners: 
Theragun: A deep muscle massage treatment unlike anything you've ever felt. Feel better, move better, and recover faster with tension and soreness relief. Try Theragun for 30-days starting at only $199. Go to Theragun.com/GOODLIFE right now and get your Gen 4 Theragun today.
Peloton: Access high-energy workouts, instantly. Discover Peloton: streaming fitness classes to you live and on-demand.

Get started on your Peloton journey. Go to onepeloton.com to learn more.

InsideTracker: Get a personalized nutrition & lifestyle action plan designed to improve wellness. Our cutting-edge technology guides you to your goals with actionable recommendations. Data-Driven Results. Evidence-Based Solutions. Personalized Recs. Leading with Science. Visit insidetracker.com/GOODLIFE to get 25% off storewide.
photo credit: Jen Squires