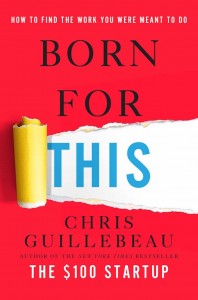 Finish what you start.
Don't be a quitter.
When the going gets tough, the tough get going.
It's a lesson we all learned from well-intended advice-givers somewhere along the way. It's all about character.
Life's hard, things get hard, the people who survive and do great things in business and life are the ones who keep going, no matter what the road throws in our way.
But, what if that was wrong?
What if the people who do great things are the ones who aren't afraid to quit a parade of wrong things in the name of making the space needed to see and then do the right ones?
What if finishing what you started was only half the story? The other half being the potential benefits?
This is what today's GLP Guest Riff is all about, and it comes from World Domination Summit founder and New York Times bestselling author of the new book, Born For This, Chris Guillebeau.
Chris delivers some straight-shooting myth-busting about "stick-to-it-iveness," or when it makes sense to keep going and when the best option, both for you and for those you eventually seek to serve, is to just walk away.
Be sure to subscribe below and listen and subscribe on iTunes to make sure you never miss an episode!