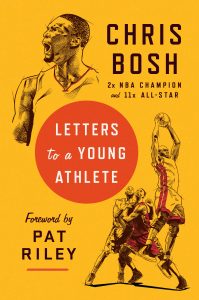 What happens when the thing you've loved since you were a kid, the thing that led you to become an 11-time NBA All-star, and two-time champion, playing alongside the best in the world, comes to a cataclysmic end at the age of 31? Leaving you to figure out what to do with the rest of your life? 
That is exactly what happened to this week's guest, Chris Bosh. He fell in love with basketball at an early age and earned the prestigious "Mr. Basketball" title while still in high school in Dallas, Texas. A year into college, Chris was drafted to the Toronto Raptors, where he played for 7 years, before joining the Miami Heat and winning two championships. But, a handful of years into his time in Miami, he was having trouble breathing and found himself in the hospital with blood clots in his lungs. A year later, the clots returned in his leg, officially ending his career, and launching him into an exploration of who he was, beyond the sport that had defined much of his life and his career. Chris shared many of his awakenings in his new memoir, Letters to a Young Athlete. 
You can find Chris at: Website | Instagram
If you LOVED this episode:
You'll also love the conversations we had with rock icon, Peter Frampton about his profound passion for guitar that led to an album and career taking him to the top of the charts for year, but then leaving him to reimagine who he wanted to be in the context of an industry that pulled him to be someone else.
Check out our offerings & partners: 
Indeed: Connect with your talent audience so you can make more quality hires faster. Post your job, interview candidates, and make offers all on Indeed. Start hiring today. Get started right now with a FREE $75 sponsored job credit to upgrade your job post at  Indeed.com/GOODLIFE
Sleep Number: Adjustable firmness, comfort and support on each side. Proven quality sleep is life-changing sleep. Discover proven quality sleep. Save $1,000 on the NEW Sleep Number® 360 Special Edition smart bed during the Memorial Day Sale. Only at Sleep Number stores or sleepnumber.com/GOODLIFE

Upstart: Upstart's lending platform provides direct-to-consumer personal loans from $1,000 to $50,000 and automated borrowing technology for banks and credit unions. Find out how Upstart can lower your monthly payments today when you go to Upstart.com/GOODLIFE. Loan amounts will be determined based on your credit, income, and certain other information provided in your loan application.
photo credit: Moyo Oyelola