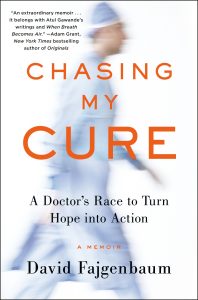 As a kid, all David Fajgenbaum could think about was football. It consumed his life, being the quarterback on a top college team was his singular mission. And, he accomplished that, landing a spot on Georgetown's team. But, fate would soon step in, when the loss of his mom to aggressive brain cancer would change his focus and inspire a new devotion, to help find a cure and support families moving through loss. But his dance with illness was just beginning. 
In the blink of an eye, Fajgenbaum went from being a beast-like college quarterback to receiving his last rites while in medical school and nearly dying four more times battling a rare disease, with no known cure, that ravaged his body with a cytokine storm that essentially set his immune system up to attack every other system in his body. To try to save his own life, and realizing nobody was coming to save him but him, David spearheaded an innovative approach to researching his own cure, launching the Castleman Disease Collaborative Network (CDCN) and discovering a treatment that has put him into his longest remission ever. 
This alone, is an incredible story. But, that thing I mentioned was killing him – a cytokine storm – well, you've likely heard that phrase many times this year. Because it is at the heart of the immune system meltdown that makes the Covid-19 pandemic so lethal. David is now focusing this same approach to other diseases ('His method could save millions,' CNN) like COVID-19, turning his lab and collaborative global network loose on identifying drugs that might be lifesavers when used "off-label" to treat the disease. His powerful story is beautifully documented in his book, Chasing My Cure, which has been translated into five languages and named one of the "Best Non-Fiction Books of 2019" by Next Big Ideas Club.
You can find Dr. David Fajgenbaum at: Website | Instagram
Check out our offerings & partners: 
Green Chef: Use code goodlife80 to get $80 off your first month plus free shipping on your first box! Go to GreenChef.com/goodlife80 to redeem and for more details.
Photo credit: Rebecca McAlpin