Charity Tillemann-Dick grew up in Denver, CO, with her 10 brothers and sisters. She loved to sing from her earliest memories, so she did the logical thing; graduated high school 3 years early, sped through college…and became a political operative by her late teens! What?!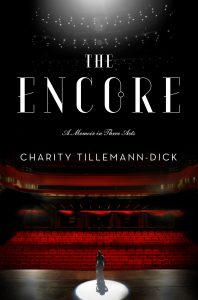 All the while, though, she continued to sing on the side, until Charity was eventually "discovered" by a legendary opera teacher, who took her under her wing and gave her a full-ride to study at the legendary Franz Liszt Academy of Music in Budapest, Hungary. In an instant, everything changed, a new career was born. Charity became a sought-after soprano and top-selling classical recording artist, performing all over the world.
But, something was wrong. Her lungs, the very source not just of her life, but of her vocation, began to fail. Diagnosed with potentially fatal pulmonary hypertension, she had two double lung transplants, the second coming after the first pair of lungs was rejected. Still, each time, she found a way not just to sing again, but to come alive, and also become an evangelist for transplants and medical research. Her story is detailed in her memoir, The Encore. We explore this, journey, along with a beautiful love story, her relationship with faith and so much more along the way.
+———————+
We're grateful for the kind support of: 
Camp Good Life Project – $200 Super Early Bird Discount! Join us for 3 ½ mind-bending days in August that will change everything. The ultimate blend of deep-learning, epic stories, friends-for-life, juicy adventures and ideas, strategies and tools for accelerated personal and business growth! It only happens once a year, and more than half the spots are already taken (we sold out months early last year and had to turn-away many amazing folks). Learn more now and grab your spot!
Audible: Get a free audiobook with a 30-day trial membership. Go to audible.com/GOODLIFE or text GOODLIFE to 500-500 to get started today.
Ring: Smart security at every corner. Get up to $150 off a Ring of Security Kit when you go to ring.com/GOODLIFE.
BarkBox: For a FREE EXTRA MONTH of BarkBox, visit barkbox.com/GOODLIFE when you subscribe to 12-month2 month plan.