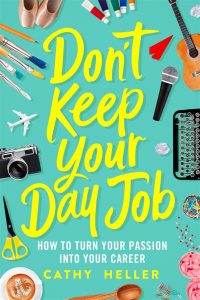 How do you live a good life? That's the question we've been asking here for nearly a decade. My guest today, Cathy Heller, has been along a similar journey, exploring the role of intentionality, purpose, and presence in a life well-lived. Raised in a household where mental illness and conflict were the norm, she took on the role of peacemaker at the age of 5, became a deep observer of human behavior, first, out of necessity, then out of curiosity, and eventually from the lens of calling. Cathy is a seeker in many ways. 
After studying mysticism and religion in college, followed by 3 years deepening her study of mysticism and self-actualization in Jerusalem, she headed back west, landing in LA, and looking to make her mark in the world of music. She eventually did, but in a way Cathy never saw coming. She became so successful, in fact, Cathy felt called to share what she'd learned, which launched her into the world of teaching, writing, distance learning, and launching her wildly popular Don't Keep Your Day Job podcast, which has over 25 million downloads. Her book of the same name, Don't Keep Your Day Job, offers a step-by-step approach to not just building a purpose-centered living, but also a deeply intentional life. 
Cathy is a sort of modern mystic meets kindness crusader meets creative visionary meets business savant. More simply, she's a walking bundle of love and wisdom, and we talk about it all in today's conversation. 
You can find Cathy at: Website | Instagram
If you LOVED this episode:
You'll also love the conversations we had with Morgan Harper Nichols about crafting a creative life and living around openness and honesty.
My new book is available!
Check out our offerings & partners: 
Outschool: Inspire kids to love learning with Outschool classes. It's 100% fun, live & teacher-led. Explore over 100,000 topics and learn in small groups via Zoom. Perfect for ages 3-18. Join for free. To learn more about all Outschool has to offer and to save $15 off your child's first class go to Outschool.com/GOODLIFE
Bean Box:

Give the coffee fanatic in your life an unforgettable coffee-tasting experience with Bean Box.

Our coffee is expertly curated and always fresh, with fast delivery and free shipping. Order today at beanbox.com/GOODLIFE and get 15% off purchases of $40 or more.
Theragun: A deep muscle massage treatment, unlike anything you've ever felt. Feel better, move better, and recover faster with tension and soreness relief. Try Theragun for 30-days starting at only $199. Go to Therabody.com/GOODLIFE right now and get your Gen 4 Theragun today.