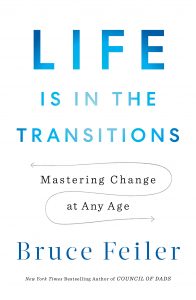 Bruce Feiler is the author of six consecutive New York Times bestsellers, including Walking the Bible and Council of Dads, the presenter of two primetime series on PBS, and the inspiration for the COUNCIL OF DADS series on NBC. He describes himself as an experiencer and explainer. Growing up in Savannah, Georgia, for as long as he can remember, he's loved going out into the world, creating powerful experiences, then sharing what he's discovered, first in letters home, then eventually in books, talks, and TV. 
But his latest set of experiences were ones he neither sought out nor saw coming. Collectively, they dropped him to his knees, and nearly took his life. Still, fueled by a relentless curiosity, Bruce became fascinated with moments of profound transition, "lifequakes" as he calls them, where life after looks very different than life before. So he spent years traveling the country investigating this phenomenon, gathering and coding stories, and that's led to the groundbreaking new book, Life is in the Transitions: Mastering Change at Any Age. Bruce's experiences and ideas really helped me reframe and better understand how to navigate the disruptions and bigger lifequakes, which for many of us, is something we're in the middle of now.

You can find Bruce Feiler at: Website | Instagram
Check out our offerings & partners: 
Factor 75: Healthy, chef-prepared meals delivered to your doorstep. Factor 75 is offering listeners of Good Life Project $60 off over their first two weeks. Just go to factor75.com, pick your meals and use code GOODLIFE at checkout to claim this limited-time offer.
Air Doctor is a medical-grade UltraHEPA air filter. Go to airdoctorpro.com and use promo code GOODLIFE and you'll receive a 35% discount.
Photo credit: Jonica Moore