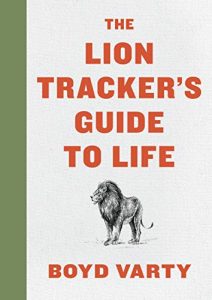 Born into a family of conservationists and trackers in South Africa,
Boyd Varty
began learning the art of tracking lions at a young age. Not for hunting, but rather as a devotion. And, eventually, as a scout for guides to bring guests into the wilderness in search of seeing animals, most often lions, in a protected environment. Through the process, learning to connect deeply with the land and natural environment, he discovered how to see and follow threads that often took hours, if not days, to lead to a majestic and wild end. But, when it came to his own life, he found himself shut down after trauma, operating on autopilot until a chance encounter with Martha Beck changed everything and opened his eyes to the possibility of using his skills as a tracker to find his way back into a life of meaning, joy and connection. Now, a storyteller, coach, tracker, activist, founder of the Good Work Foundation and the author of
The Lion Tracker's Guide to Life
, he's on a mission to help others find their own paths to healing, wholeness and wildness or, in his words, to "Track Your Life."
Check out our offerings & partners: 
Boll and Branch: Get $50 off your first set of sheets at BollAndBranch.com, and enter promo code GOODLIFE
Sleep Number: Experience the smart, effortless comfort of the Sleep Number 360 smart bed.  You'll only find Sleep Number at one of their 600 Sleep Number stores nationwide. Find one near you at sleepnumber.com/GOODLIFE
Four Sigmatic: Get 15% off your Four Sigmatic purchase by going to foursigmatic.com/goodlife and using code GOODLIFE at checkout.
Have you discovered your Sparketype yet? Take the Sparketype Assessment™ now. IT'S FREE and takes about 7-minutes to complete. At a minimum, it'll open your eyes in a big way. It also just might change your life.