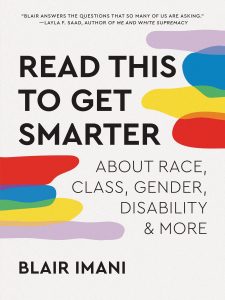 My guest today, Blair Imani, grew up in a house where sitting quiet in the face of any level of injustice was just not an option. Whether it was advocating for the needs of a sibling or standing up to right a wrong in her community, her parents set a powerful example and invited Blair to always rise to the challenge. And that's exactly what she's done. 
But, along the way, Blair also discovered, there are different ways to make a difference, and we each need to figure out how to take up the mantle of change, while also honoring our unique circumstances and needs, and that includes acknowledging our own, very personal psychological and physical wellbeing. 
Building on this, Blair transitioned from organizing and activism to focusing on education, but in a way only she could do – harnessing the power, reach, interactivity and visual impact of social media by creating short, punchy, informative and entertaining bursts of wisdom and inspiration she calls her Smarter in Seconds series, which, at this point, has become a global movement.
Now a writer, mental health advocate, award-winning educator, and historian living at the intersections of Black, Queer, and Muslim identity, Blair is the bestselling author of Read This to Get Smarter, Making Our Way Home, and Modern HERstory. Her scholarship spans intersectionality, gender studies, race and racism, sociology, and United States history. She has presented at Oxford, Stanford, and Harvard, serves on the Board of Directors for the Tegan and Sara Foundation, and been featured in The New York Times and tons of other outlets.
You can find Blair at: Instagram | Website
If you LOVED this episode:
You'll also love the conversations we had with Austin Channing Brown, about how we create the world around us and how we bring ourselves to it from a place of equity, dignity, and justice.
Check out our offerings & partners: 
Aura Frames: The world's smartest digital picture frame. Aura is an easy and beautiful solution to instantly frame photos from your phone. From now until Mother's Day, listeners can save on the perfect gift and visit auraframes.com. Use code GOODLIFE to get up to $40 off while supplies last. Terms and conditions apply.
Air Doctor: Capture contaminants and chemicals with a medical-grade UltraHEPA air purifier that's 100X more effective than ordinary purifiers. Go to airdoctorpro.com and use the promo code GOODLIFE and you'll receive a 35% discount on their classic AirDoctor 3000 purifier.
photo credit: Kaelan_Barowsky