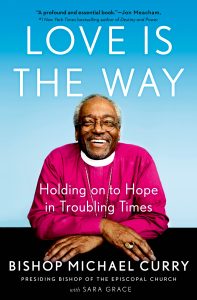 The Most Reverend Michael Curry is the first African American individual to serve as Presiding Bishop and Primate of The Episcopal Church, Chief Pastor, President and Chief Executive Officer, and Chair of the Executive Council of The Episcopal Church.
Born in Chicago, in the 50s, with a father who was an Episcopal priest, his mom died at a young age and he, along with his sister, was raised by his father and his grandmother. Early in life, he was introduced to social activism through his father's leadership and his own dedication to righting a broken world. Eventually ordained himself in 1978, Bishop Curry grew increasingly active on issues of social justice, reconciliation, immigration, and marriage equality, often taking positions that were counter to broader tradition, and never shying away from opportunities to invite people to challenge convention in the name of creating a more inclusive community that welcomed all with love and dignity.
In May of 2018, Bishop Curry delivered a moving sermon on the redemptive power of love at Prince Harry and Meghan Markle's royal wedding, then just months after, served as the officiant for the state funerals of Senator John McCain and President George H.W. Bush in the Washington National Cathedral. 
Bishop Curry has also written 5 books, his newest is Love is the Way: Holding Onto Hope in Troubling Times, which expands upon his focus on love as the centerpiece for a new way to live and find meaning and peace, even at time where they can seem so hard to access. We explore all of this in today's conversation.
You can find Bishop Michael Curry at: Website | Instagram
Check out our offerings & partners: 
Trends: A premium weekly report that helps you understand market trends poised to skyrocket and how you can pounce. Right now you can get your first two weeks for just $1! Go to Trends.co/GOODLIFE to start your $1 two-week trial.
Reliefband: Reclaim your life from the fear of nausea. Go to reliefband.com and use promo code GOODLIFE you'll receive 20% off.