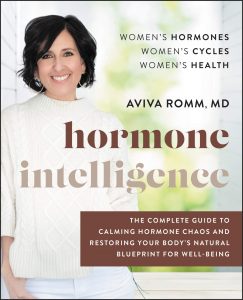 The world of medicine is in a place of profound disruption, and that's a really good thing. Because things have needed to change for a long time. That's why I'm so glad to be able to sit down with an old friend today, Dr. Aviva Romm, who is my go-to doc for a better understanding fact from fiction, and where the world of medicine is headed, in no small part, through her efforts. 
Referred to as "the face of natural medicine in the 21st century" by Prevention Magazine and named one of the 100 Women to Watch in Wellness by Mind Body Green, Aviva Romm, MD has bridged the best of traditional medicine with good science for over three decades. A midwife, herbalist, and Yale-trained MD, Board Certified in Family Medicine with Obstetrics, as well as a graduate of Dr. Weil's Integrative Medicine Residency, she is an avid environmental health advocate, researching and publishing on the impact of toxins on fertility, pregnancy, women's hormones, and chronic illness in women and children. 
Aviva is one of the nation's leaders in botanical medicine and is the author of seven books on natural medicine, including the textbook Botanical Medicine for Women's Health, The Adrenal Thyroid Revolution, and her latest book, Hormone Intelligence. She is the author of the integrative medicine curriculum for the Yale Internal Medicine and Pediatric Residencies, and is on numerous scientific advisory and editorial boards, including Prevention Magazine. And, today, we're diving into the evolving issues around medicine, equality, agency, and the role that hormones play in nearly every aspect of wellbeing, and how nearly everything we do affects this system.
You can find Aviva at: Website | Instagram
If you LOVED this episode:
You'll also love the conversations we had with Dr. Frank Lipman about a fully integrated approach to healing and wellness.
Check out our offerings & partners: 
Theragun: A deep muscle massage treatment unlike anything you've ever felt. Feel better, move better, and recover faster with tension and soreness relief. Try Theragun for 30-days starting at only $199. Go to Theragun.com/GOODLIFE right now and get your Gen 4 Theragun today.
Fundrise: Fundrise is the first investment platform to create a simple, low-cost way for anyone to access real estate's historically consistent, exceptional returns. It takes just a few minutes to get started. Go to Fundrise.com/GOODLIFE today.
Talkspace: Online Counseling Via Text, Audio, Or Video Messaging. At Any Time, From Anywhere. Get $100 off of your first month with Talkspace. To match with a licensed therapist today, go to Talkspace.com or download the app. Make sure to use the code GOODLIFE to get $100 off of your first month and show your support for the show.
photo credit: Wendy Yalom