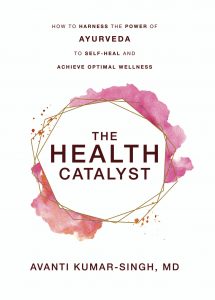 I've been fascinated with alternative approaches to healing and medicine for my entire adult life. Especially when so many millions of us are walking around with pain and inflammation that doesn't seem to fair well with a more Western approach. But, at the same time, I'll also admit, I'm equally skeptical of a lot of solutions, practices, and claims. Which is why I've been deeply curious, for many years, about Ayurveda – a healing methodology that has been practiced, refined and sustained for some 5,000 years, and I was so excited to sit down with my friend, Avanti Kumar Singh, a traditionally-trained physician who experienced firsthand the limitations of Western medicine and decided to leave behind a career in emergency medicine to begin a 20-year journey to study, research and experience traditional healing systems from a wide range of cultures that landed her back in Ayurveda and reconnected her with a sense of calling. 
A central tenet of Ayurveda is the notion that each of us has the innate ability to attain and maintain our own optimal health, and that when done correctly, the practice of Ayurveda is as simple and as natural as being in tune with your body as it moves through the seasons of your life. I love this idea, and I also struggle with it. Which is why I am so excited to share this conversation with you, to unpack some of the key concepts, including ones that, at first, didn't necessarily land true to me, with someone who is deeply studied and accomplished in both worlds. Avanti is also the author of a wonderful new guidebook, The Health Catalyst: How To Harness the Power of Ayurveda To Self-Heal and Achieve Optimal Wellness.
You can find Avanti Kumar-Singh, MD at: Website | Instagram
Check out our offerings & partners: 
Share Good Life Project with your friends and earn rewards: Refer 7 new listeners, get a personalized thank you voice-message from Good Life Project host, Jonathan Fields (and big virtual hugs and gratitude!). Visit tinyurl.com/glpfriend
Sleep Number: Adjustable Firmness, Comfort And Support On Each Side. Save up to $700 on the NEW Sleep Number 360® smart bed. Plus, special financing. For a limited time, only at Sleep Number stores or sleepnumber.com/GOODLIFE
ShipStation: Shipping software is designed to save you time and money on eCommerce order fulfillment. T

ry ShipStation FREE for 60 day

s when you use the offer code GOODLIFE. Get started at ShipStation.com today!
Photo credit: Maria Ponce