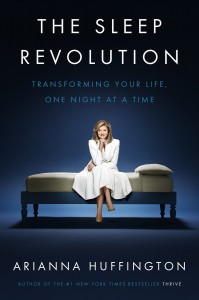 Today's guest is Arianna Huffington, co-founder, president, and editor-in-chief of the Huffington Post Media Group, and author of fifteen books.
In May 2005, she launched The Huffington Post, a news and blog site that quickly became one of the most widely-read, linked to, and frequently-cited media brands on the Internet.
In 2012, the site won a Pulitzer Prize for national reporting. Huffington has been named to Time Magazine's list of the world's 100 most influential people and the Forbes Most Powerful Women list.
Originally from Greece, Huffington moved to England when she was 16 and graduated from Cambridge University with an M.A. in economics. At 21, she became president of the debating society, the Cambridge Union. She serves on numerous boards, including The Center for Public Integrity and The Committee to Protect Journalists.
A devoted mom with a deepening focus on redefining the metrics of a life well-lived beyond business, she's decided to make sleep her revolutionary cause with her latest book, The Sleep Revolution: Transforming Your Life One Night At A Time.
In This episode, You'll Learn:
What family means to Arianna and how her Greek heritage shaped her lens on relationships.
How a health incident awakened her to the importance of redefining success.
Why she chose sleep as the subject of her attention and new book.
Why sleep may well be the single biggest game-changer for your life.
What Arianna's doing to make her smartphone into a dumb phone.
Simple things you can start that will make the biggest difference in your sleep.
How sleep affects mood, cravings and weight.
Mentioned In This Episode:
Be sure to subscribe to our weekly Good Life Updates and listen on iTunes to make sure you never miss an episode!