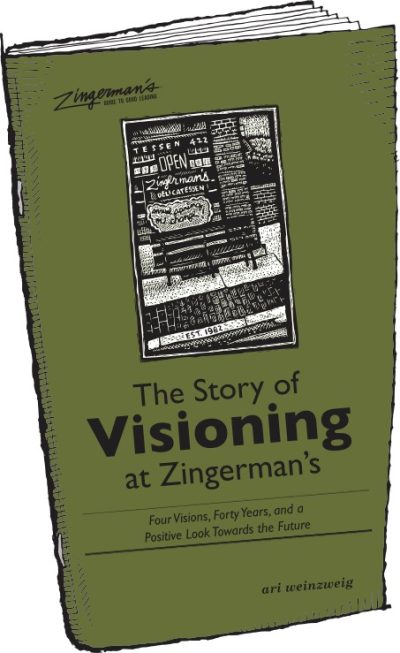 Imagine, being in your 20s, fresh out of washing dishes at a local restaurant, borrowing just enough money to open a tiny, local deli with a friend who shared your passion for food, community, and business? Now, imagine that, decades later, that single decision would profoundly change the lives of not just thousands of regular customers, but millions of people, around the world? 
What my guest today, Ari Weinzwieg, didn't realize, when starting Zingerman's Deli with a $20,000 loan from the bank, and a degree in Russian History from the University of Michigan, was that he was seeding a revolution. Actually, in hindsight, maybe he did. Now 17 companies later and sitting as the CEO and co-founding partner of Zingerman's Community of Businesses, Ari sees commerce as an engine of impact, expression and service that changes people's lives. 
Ari and his ideas have set off a global ripple of compassion, dignity, imagination, and aliveness in the world of business, inviting people to reimagine a profoundly different, radically expansive and inclusive way of defining success. Named by Inc Magazine as one of "The World's 10 Top CEOs," he's forging a new way in business that rejects the norm and is grounded in purposeful vision, passion, and anarchy theory. He's written extensively about the values and beliefs that have kept the now iconic Zingerman's Delicatessen, his first business venture, afloat and successful for over 40 years in weekly newsletters and the numerous books he's authored, such as A Lapsed Anarchist's Approach to the Power of Beliefs and A Lapsed Anarchist's Approach to Managing Ourselves. 
In our chat today, Ari shares some of the brilliant happenings inside his head, ranging from the ways we can use history to guide us in work, life, and business today, a reclamation of anarchy as a tool for impact and equality, Ari's natural laws of business and the importance of being in harmony with nature, the power of visioning, and the steps you can take to cast your own life and world-changing vision. This isn't just about business, it's about life.
You can find Ari at: Website | Instagram
If you LOVED this episode:
You'll also love the conversations we had with Donna Carpenter about how she and her husband, Jake, built Burton into not just a snowboard giant, but also a workplace that champions humanity.
Check out our offerings & partners: 
photo credit: Benjamin Weatherston