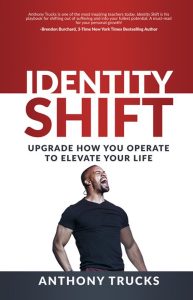 Anthony Trucks entered the foster system, along with his two siblings, when he was three years old, then spent years enduring a series of brutal experiences. Until he found a home where, after 8 years of legal battles, he became emancipated from his mom and was adopted by his then longtime foster parents. Still, a young Black man, now part of a White family who also struggled with poverty, he struggled to belong. Not so much to his family, but to the broader culture around him. He turned to football, working to rise up in the sport and, years down the road, accomplished his dream of being drafted and playing for the NFL. 
But, not long into his time with the Pittsburgh Steelers, a career-ending injury would bring it all tumbling down, and leave him stripped not only of his career but his very identity. And, that led to deep struggle, the demise of his family, and a season where Anthony found himself having to rediscover and redefine his sense of identity, who he was as a human being, a partner, a father, a friend, and someone driven to inspire agency and change in others. That journey led him back into the world of wellness, personal growth, speaking, training, and even competing in American Ninja Warrior. As a speaker and identity shift coach, Anthony teaches people how to design and build better lives and businesses by learning how to access the power of their identity to tap into their full potential, a methodology shared in his book, Identity Shift: Upgrade How You Operate to Elevate Your Life.
You can find Anthony at: Website | Instagram
If you LOVED this episode:
You'll also love the conversations we had with Dr. Jill Bolte Taylor about how we can understand and tap our whole brains to live fuller lives.
My new book is available!
Check out our offerings & partners: 
Sarah Flint Shoes: Comfort-driven design, with features like arch support and extra footbed padding. Sarah Flint shoes are handcrafted in Italy by the artisans who make the highest quality luxury shoes in the world. Get $50 off your first Sarah Flint purchase when you go to SarahFlint.com/GOODLIFE
Miro: Miro's infinitely zoomable canvas and web whiteboard enables you to work the way you want to. Unleash your creativity, plan projects from all angles, and create centralized hubs of information to keep everyone in the loop. Go to miro.com/goodlife to start your free account. Sign up today and take advantage of three FREE white boards with this EXCLUSIVE offer.
Sleep Number: Adjustable firmness, comfort and support on each side.

Proven quality sleep is life-changing sleep. Special offers now available for a limited time. Only at Sleep Number stores or

 sleepnumber.com/GOODLIFE