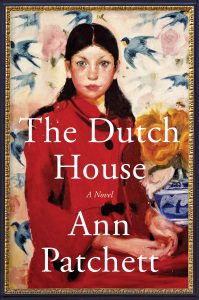 A graduate of Sarah Lawrence College and the Iowa Writer's Workshop, Ann Patchett is the multi-award-winning and New York Times Bestselling author of eight novels, including The Patron Saint of Liars, Bel Canto, Run, Commonwealth. and The Dutch House, along with nonfiction works, including Truth & Beauty, about her friendship with the writer Lucy Grealy, What Now? an expansion of her graduation address at Sarah Lawrence College, and This is the Story of a Happy Marriage, a collection of essays examining the theme of commitment. In 2019, she published her first children's book, Lambslide, illustrated by Robin Preiss Glasser. Patchett's work has been translated into more than thirty languages. In November 2011, yearning to stem the flow of great bookstores from Nashville, Tennessee where she lives, Patchett opened Parnassus Books with her business partner Karen Hayes. She has since become a spokesperson for independent booksellers, championing books and bookstores. In 2012 she was named by Time magazine as one of the 100 Most Influential People in the World. Interestingly, Patchett does not carry a cell-phone, has never texted, been on social media or, at least in the last few decades, watched TV. We dive into all of this in today's conversation.
You can find Ann Patchett at: Website | Instagram
Check out our offerings & partners: 
Fivver: Find your talent today at FIVERR.com and receive 10% off your first order using our code GOODLIFE.
Babbel:

Right now, Babbel is offering our listeners three months free with a purchase of a three-month subscription with promo code

GOODLIFE. Go to Babbel.com, and use promo code GOODLIFE

 on your three-month subscription.

UV Clean: Right Now Good Life Project listeners can get 15% off PLUS Free Shipping the purchase of two UV Clean Phone Sanitizers.  Just head to GetUVclean.com, and use Promo Code GOODLIFE.