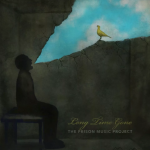 In 2010, folk-singer and songwriter Zoe Boekbinder visited New Folsom Prison for the first time. What they thought would be one interesting day turned into a decade-long collaborative project. Boekbinder visited the prison often over the next five years; performing and teaching music workshops quickly turned into the beginnings of collaborations with writers and musicians who were incarcerated within New Folsom's walls. Boekbinder collaborated on the first of these songs with Alex Batriz, and following that, was approached by many more writers about collaborations. This was the seed for the Prison Music Project and the culminating album, Long Time Gone, produced by Ani DiFranco. Out now on Righteous Babe Records, the album features work by nine incarcerated (and formerly incarcerated) writers.
The profits of Long Time Gone sales will benefit communities impacted by mass incarceration and the funds will be administered by the Southern Center for Human Rights. The contributing writers will decide, collectively, what projects will be funded. The writers own their work and will profit from royalties.
You can find Prison Music Project at: The Prison Music Project Website
Check out our offerings & partners: 
PowerXL Air Fryer: Air Fry, Grill, Bake, Roast, Toast, Rotisserie & More. Go to TryPowerXL.com & use promo code GOODLIFE to receive 10% OFF plus free shipping and a free cookbook.
Indeed: Connect with your talent audience so you can make more quality hires faster. Indeed is offering our listeners a FREE $75 CREDIT to boost your job post at Indeed.com/GOODLIFE
Factor 75: Fresh, ready-prepared meals that support even the busiest of lifestyles! Factor is offering listeners of Good Life Project $60 off over their first two weeks. Just go to factor75.com, pick your meals and use code GOODLIFE at checkout.