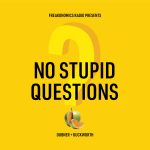 In many circles, Angela Duckworth's name has become synonymous with the word grit, this elusive trait that fuels the sustained action-taking in the face of relentless adversity that leads to big achievements. Her book Grit: The Power of Passion and Perseverance was a No. 1 New York Times bestseller, and Duckworth is founder and C.E.O. of Character Lab, a nonprofit that uses psychological science to help children thrive. 
She is also the Christopher H. Browne Distinguished Professor of Psychology at the University of Pennsylvania, faculty co-director of the Penn-Wharton Behavior Change for Good Initiative, and faculty co-director of Wharton People Analytics. A 2013 MacArthur Fellow, Angela has advised the White House, the World Bank, NBA and NFL teams, and Fortune 500 C.E.O.'s, and her TED talk is among the most-viewed of all time. And, she now also co-hosts the new podcast 'No Stupid Questions' with Stephen Dubner of Freakonomics.
You can find Angela Duckworth at: Website | No Stupid Questions Podcast
Check out our offerings & partners: 
Athletic Greens: Boost your energy levels, support your immune system, and address gut health. Visit athleticgreens.com/goodlife to claim their special offer today – and receive the FREE D3/K2 wellness bundle with your first purchase!
Air Doctor is a medical-grade UltraHEPA air filter. Go to airdoctorpro.com and use promo code GOODLIFE and you'll receive a 35% discount.